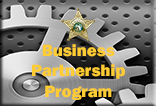 Dear Business Owner/Manager,
The goal of the Palm Beach County Sheriff's Office is to inform business owners, managers and employees of the vulnerability of the crimes that could occur in their workplace, to themselves, or to their patrons.
The Business Partnership Program is a unique program designed for businesses to establish a formal network of communication between businesses in a specific area or industry, their employees and the Sheriff's Office regarding crime related problems. Businesses also have the ability to obtain Trespass Warning Signs for their business to protect their investment.  Business Partnership Program provides a vehicle for crime prevention specialists to educate and guide business owners and employees in the following areas:
Crime Reporting
Operation Identification
Robbery Prevention/Awareness
Burglary Prevention
Personal Safety and Self-Protection
Email Alerts
CrimeReports.com
Trespass Sign Program – OAN (Owner Applied Number)
Benefits for Businesses
Faster contact during emergencies
Email alerts of crimes related to your business type
Access to PBSO crime prevention deputies to share and distribute information about suspicious incidents that have occurred in your business
Benefits for Law Enforce
There should be a clickable pdf icon to allow the person to open this attached BPP file (Instructions for Tres Add Sign Info) to this email. It explains what the citizen is to do to get trespass signs.
The Business Partnership Program (BPP) asks everyone in businesses to be the eyes and ears of local law enforce­ment agency. In turn, your Sheriff's Office can better serve your busi­ness community by having instant access to your contact information. For more information on this program and how to join Business Partnership Program, contact us at: 561-688-3830