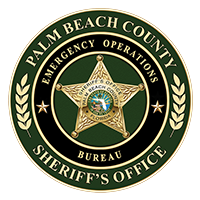 The Emergency Operations Bureau consists of three divisions: Court Services, Emergency Management, and Special Operations. It is a large multidisciplinary organization providing operational, strategic, and tactical capabilities, including: Courthouse and courtroom security services; all-hazards and emergency management planning, training, and coordination, including incident management team personnel; and special assets and emergency responses, which significantly multiply our agency's abilities, capacities, and resources.
Court Services provides liaison and coordination with the 15th Judicial Circuit Court Administrator, in conjunction with the Chief Judge, state attorney, and public defender; courtroom and courthouse security at five campuses throughout the county, including the management of over an 89-member private security force, as well as, security for the Palm Beach County Governmental Center, Office of the Public Defender, and Office of State Attorney.
Emergency Management staff provides guidance, expertise, and support for a wide range of all-hazards issues.  It recommends policies, procedures, and protocols to ensure a comprehensive all-hazards program exists.  It maintains collaborative partnerships and close coordination with municipal, other counties, state, and federal agencies, as well as, the Southeast Florida Domestic Security Task Force and Florida National Guard, especially during national, state, and/or local states of emergency.  It carries out many of these functions as a lead agency by operating the Emergency Support Function-16 Unit (Law Enforcement & Security) at the Palm Beach County Emergency Operations Center.  The division provides program management and trained personnel for the regional All-hazards Incident Management Team.  Lastly, pursuant to the Marjory Stoneman Douglas High School Public Safety Act, it maintains executive oversight and coordination for the Palm Beach County Charter Schools Code Red (Emergency) Drills Program.
Special Operations assets include Aviation, Canine, Emergency Field Force, Environmental Crimes, Hazardous Devices (Bomb Squad), Marine Enforcement, Mounted, and SWAT units.  These elite units are specifically organized, trained, and equipped to conduct special operations capabilities and tactical techniques in small teams or standalone units or with sheriff's office districts/divisions, other agencies and task forces, providing discreet, precise, or direct action activities in complex, dynamic, volatile or asymmetric environments or situations.