Welcome to the Palm Beach County Sheriff's Office – District 13 – City of Belle Glade website.  I am Captain Emory Payne and I am honored to serve as the Commanding Officer of District 13 and the Law Enforcement Liaison with the City of Belle Glade.
It is my vision to further expand and build on the partnerships and community relationships that are forming throughout the city of Belle Glade; there is nothing more eventful than community members working in one accord with law enforcement officials to attain the same goals.
Through both my professional and educational experiences, I have acquired core values that will not only benefit the District but the community as a whole. I have worked in the Criminal Justice System since 1988. I began my career in the Correctional Division at the Palm Beach County Sheriff's Office. While employed in this capacity, I ascended to the rank of Sergeant; eager to press forward within the department, I endeavored to pursue a position in the Road Patrol Division. Since achieving that goal in 1995, this awakened my professional career in law enforcement.
I have served in various roles (Road Patrol Deputy,  Road Patrol Sergeant, and Operational Watch Commander) for the Western Communities. In addition to law enforcement, I have also served in the United States Air Force and the United States Air Force Reserves for a total of 32 years.  I retired from the military in June 2015. During my tenure in the military, I have held a variety of positions such as security forces, key management, and leadership. I endured critical Air Force Expeditionary deployments and humanitarian missions.
I have a Bachelor's Degree in the field of Organization Management from Palm Beach Atlantic University and a Master's Degree in the field of Business Administration from The University of Phoenix. To build on my core competencies in law enforcement, I attended the Police Administration program at Eastern Kentucky University and graduated from the 138th Administrative Officers Course at the Southern Police Institute at the University of Louisville, Louisville KY.
I am a native of Clewiston, FL as well as a graduate of Clewiston High School which affords me the opportunity of understanding the needs and challenges of the Western communities; therefore I am delighted to bring these attributes to the City of Belle Glade.  I look forward to an inspired team effort from executive leaders, sworn and non-sworn personnel and members of the community in our quest to reach optimal success.
As the Commanding Officer of District 13, I thank you for the opportunity to continue serving your community.
Community Resources & Links
Active Shooter Training Video
In light of the tragic events, we want to remind everyone what they can do during an Active Shooter situation.
Latest News in District 13: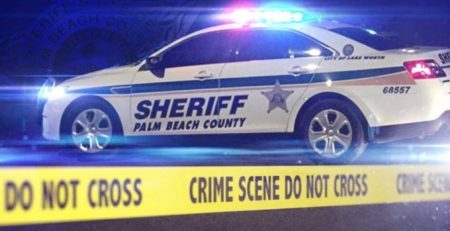 Vehicle 1 was traveling northbound in the northbound lane of...
read more