The Palm Beach County Sheriff's Office established the volunteer program in 1989. The program has grown to over 1,900 citizens serving as the "eyes and ears" throughout unincorporated Palm Beach County. Volunteers also serve in many administrative departments across the agency, from vehicle maintenance to the crime lab, to assisting detectives. We hope you will consider being a part of our award-winning organization where you can utilize your own life skills and learn some new ones while feeling the pride of being a part of the "PBSO" family. Volunteering not only fosters a great feeling of accomplishment but helps your community become a safer place.
For more information on volunteer opportunities or the Citizen Observer Patrol (C.O.P.), call to make an appointment at (561) 688-3980, or come visit us at 4601 Community Drive, West Palm Beach, FL 33417. We are open Monday through Friday between 9:00 AM and 12:00 PM and 1:00 PM to 4:00 PM. We are closed on federal holidays. You may also email us at Volunteer@PBSO.org.
The Citizen Observer Patrol (COP) is a volunteer unit of the Palm Beach Sheriff's Office. The program is comprised of over 80 individual COP units from neighborhoods much like your own.
Volunteers wear distinctive uniforms and drive specially marked vehicles
Each COP vehicle is equipped with a volunteer radio.
Volunteer Emergency Response Team (VERT)
24/7 Call-out commitment
Travel county wide
Able to stand in all weather conditions for hours
Direct traffic on roadways
Attend monthly meetings and training
Must be flexible with days and hours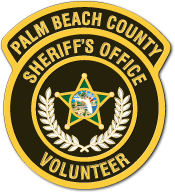 Bike Patrol
Must already be able to ride a 2 wheel bicycle
Ride bike with cell phone
Parking Enforcement Specialist (PES)
Attend a state certified 2 day course
12 hour PES field training
Capable of attending traffic court
Honor Guard
Attend specialty functions
Attend last minute requests
Attend training and additional meetings
Special Events
Enjoys communicating with people
Available for weekend events
Work with PBSO deputies
Crime Prevention Unit
Established to assist crime prevention deputies with various programs such as: Business Partnership Program, Identity Theft and other activities
Rovers
Patrol throughout the unincorporated areas of the county
Assist motorist in distress
Assist with traffic crashes
Conduct directed patrols in identified crime areas
Traffic Monitoring
Monitor speeds on roadways throughout the county
Trained on the use of radar
Attend monthly unit meetings
Report excessive speed zones for future traffic enforcement
Marine Unit
Must complete a written Florida Boating Safety Course within 6 months of interview
Must have previous boating experience.
Must be able to swim and tread water for 5 min.
Must be prepared to stay longer than required 3-hour tour.
Must successfully complete crew member tasks within 6 months of interview
Must be able to lift 50 lbs. and get in and out of boat without assistance.
Dispatchers
Dispatch from your home
All equipment is provided
Work one three hour shift per week between 0700 – 2200
Mounted Unit
Must have your own horse
Patrol unincorporated areas on horseback
Must be able to patrol on horseback minimum of 3 hours a week
Must be willing to participate in special events
You and your horse must attend basic training
Airport Unit
Patrol terminals, both in and out of uniform