Disabled Permit
Since 1986, the Disabled Volunteer Parking Enforcement Program has used specially trained disabled volunteers to enforce parking regulations, particularly disabled parking violations, throughout Palm Beach County. A new program started in 1998 uses non-disabled volunteers for the same purpose. Approximately 70% of all disabled parking violations are enforced by one of these groups of volunteers.
For any other question related to disabled parking, call (561) 688-4175.
HOW DO I OBTAIN A DISABLED PERMIT?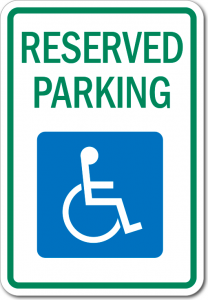 A person with a disability can either call, write, or respond in person to their local Tag Registration facility listed in the blue pages as "Tax Collector" under county agencies. An application will be furnished that must be signed by a treating physician.
When the form is signed, it is returned to the tag agency and a four-year permit is issued. For those with a temporary disability, and up to one-year permit is issued using the same procedure utilized for a four-year permit, except you must request the temporary application.
WHO CAN OBTAIN A DISABLED PERMIT?
A person with statute listed disabilities may qualify for a disabled parking permit. Only the person with the disability can use the permit. According to State Statutes, the disabled person must be transported (either driver or passenger) when the vehicle parks in the disabled space. If anyone improperly utilizes the disabled permit without the disabled person being transported, they can be issued a parking citation with statute fines up to $250.00 plus additional court fees. Agencies that transport disabled individuals may also qualify for a permit.
HOW DO I KNOW WHO IS DISABLED IF THERE IS NO NAME ON THE DISABLED PERMIT?
Every disabled person assigned a disabled parking permit must have a driver's license or Fl. ID card. The permit must be presented to any enforcement officer on demand. The driver's license or ID number appears on the permit below the expiration sticker.
WHAT IS A PROPERLY MARKED DISABLED SPACE?
Florida State Statute 316.1955 discusses these formalities. In summation, the space must have an above-grade sign with the wheelchair symbol and caption "Parking by Disabled Permit Only" and the space must be outlined in blue paint. The space should also be at least 12′ wide and may be required to have an adjacent access area and be located to the closest accessible entrance to the facility served. No one, even a disabled person, is allowed to park in the diagonally striped access area.
MAY A NON-PERMIT CAR STOP OR STAND IN A SPACE RESERVED FOR DISABLED PARKING?
A vehicle located in a disabled space with no permit, may not use the designated parking space, even if the engine of the vehicle is running unless they are in the process of loading or unloading a disabled person. Once done, the vehicle must be moved to a regular parking stall
The statute states anyone who is stopping, standing, parked in or blocking a disabled space is in violation of this law.
DOES FLORIDA RECOGNIZE OUT OF STATE PERMITS?
Yes. We recognize all other 49 states and generally all out-of-country permits, as well. However, you are not allowed to use your out-of-state permit if you possess a FL driver's license or FL vehicle registration, the statute requires you to obtain a FL. disabled permit.